Photo Credit: Bulb Creative
10 Wedding Trends for 2018 from the team @ The Bridal Box Co.
There are so many incredible new trends emerging for weddings in 2018 and we have created our top 10 wedding trends for you. From welcome boxes to what is hitting the runway, we hope you find some inspiration amongst our most-wanted list.
Pantone Colour of the Year 2018 – Ultra Violet
Love it or hate it, the Pantone Colour of the Year, ultra violet is going to be seen strongly this year through bouquets, bridesmaid dresses, reception décor etc. A dramatic shade, it is original and desirable and is the colour to watch for all wedding designs in 2018. "The Pantone Colour of the Year has come to mean so much more than 'what's trending' in the world of design; it's truly a reflection of what's needed in our world today." – Laurie Pressman, Vice President of the Pantone Colour Institute.
Welcome Boxes
The personalised wedding box is proving to be a huge hit already for 2018, by showering guests in appreciation by giving them a one-of-a-kind welcome box. Think bonbonerie's but bigger and more thoughtful. This is a fresh take on a traditional token gift and one that is going to make an impact. The most popular are personalised boxes that are filled with wine, flowers, candles, personal notes and wedding information for every guest to enjoy. Very popular for destination weddings to show gratitude for guests travelling so far.
Moveable feasts
Looking for something original, memorable and fun, then check out food trucks as one of the hottest 10 wedding trends for 2018. Food trucks and food installations offer a unique dining experience and are replacing the traditional sit-down dinner for a more entertaining and interactive option.
4. Copper
Rose gold was a huge hit in previous years and this has now moved onto the new element being copper. It is the perfect accompaniment to accentuate an industrial look and can be integrated into both the ceremony and reception through tea lights, cups, cutlery, flower vessels and lanterns to name a few. Copper is one design element to watch for 2018.
Fun Dessert Tables
Fun dessert tables are continuing to be a hit in 2018 with one of the favourites being a donut wall, instead of the traditional cake. The donut wall is the wedding décor that has never been sweeter, and features as a vertical donut stand that you can colour coordinate, you can shape into your initials or even integrate flowers into the donut wall. The possibilities are endless with this fun snack stand.
Hanging Floral Installations
This is a trend that has already been very stylish in 2017 and continues to dominate the most stylish weddings in 2018. Hanging flowers or greenery above tables create a unique dynamic to a space and also gives more room on tables if you're choosing big sharing plates. Think timber, metal, copper and twig features throughout the hanging flower installations for an inspiring WOW factor.
Cutting the Guest List
One trend we are beginning to see more of is the culling of the guest list. Smaller and more intimate weddings are making a come-back, with couples choosing to invite only family and friends that they are close with, as opposed to having a large, lavish wedding with guests that they haven't seen in years (if ever)! Couples are choosing to use their hard earned money for their honeymoon, house deposit, holidays etc.
Guest books reworked
Having a traditional guest book is always a lovely sentiment, however 2018 is showcasing inspired ways to capture guests' well wishes. Some of the trends we are seeing are thumb print paintings and signed surfboards and we are sure to see a wave of new and innovative guest books in 2018.
Proposing to your bridesmaid
There are so many fun and unique ways to "pop the question" to your bridesmaid and this is an emerging trend for 2018. Gift boxes given over a champagne brunch or hand delivered to the bridesmaid door with a sweet personalised note saying that they can't say I do without them, is a wonderful way to begin the wedding planning journey.
One of our favourites at the Bridal Box is the Bella Bridesmaid gift box and can found be here: https://dev1.nxvd.net/gift-ideas/champagne-box-box/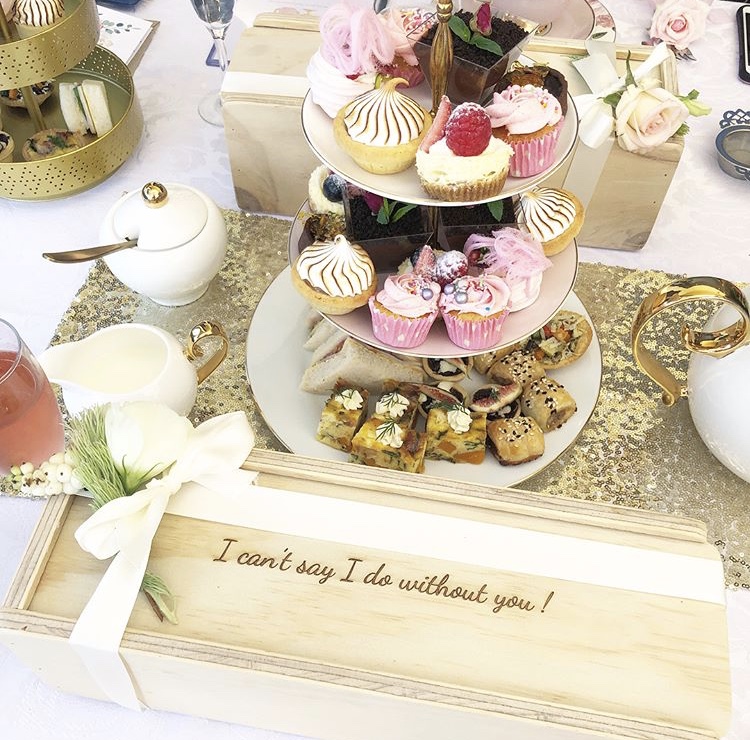 Wedding Dress Trends
There are a plethora of new trends hitting the Bridal Fashion Week runway in 2018, however some of our absolute favourite trends are the princess capes, cascading ruffles, sheer corsets and the fabulous statement bows. Simply divine and such statement pieces.
2018 is already proving to have some standout wedding trends and this top 10 list from the team at The Bridal Box is a glimpse of what is to come. To find out more and to read more of our wedding blogs, please visit https://dev1.nxvd.net/