Calling all Photographers!
Struggling to find a good quality photography box to wow your customers and show off your brand, but still be exceptional quality and affordable? Look no further – we have you covered!
We now offer a handmade wooden photography box that's perfect for your business and clients! These the perfect size for your 8"x10" prints and a space pre-filled with wood wool to include your USB. A ribboned 8″ x 10″ backing board is also included in the base, so clients can easily remove their prints without getting fingerprints or folds on the images. We can then custom engrave the lid with your logo or include your client's names and wedding/shoot date.
These are perfect for wedding photographers, newborn photographers, family shoots or any special occasions!
If you'd like to know more or arrange a sample, just zip us an email: hello@thebridalboxco.com.au 
Corporate Gifts, Collaborations and Vendor Pricing
Our stunning keepsake gift box range is also available for corporate gifting! Looking for a hamper box to thank your clients or champagne boxes to showcase your business? We can personalise any of our gift box sizes or our wooden swing with your logo, branding and message for your staff or clients! Our handmade gift boxes are built to last, so they'll continue to impress your clients for years to come!
We also offer corporate discounts for larger orders!
Are you a fellow wedding vendor?
We'd love to work with you! We love supporting our industry friends and can provide you and your customers with industry friend rates.
Our greatest love is seeing the face of a loved one receiving their personalised gifts… but our second favourite thing is collaborations! If you have a collaboration idea, Let us know! We would love to see what we can create together!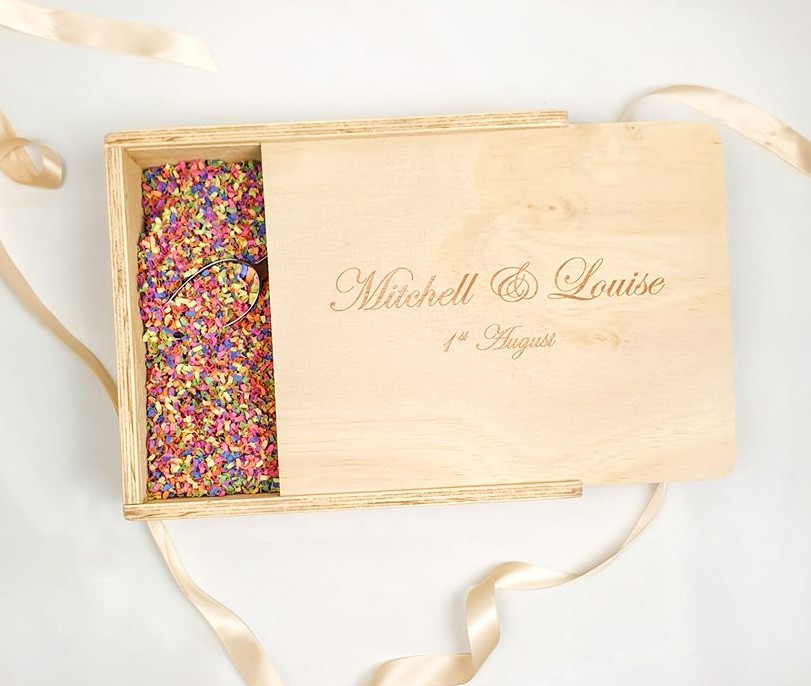 Get in touch today to discuss how we can create the perfect gifts for your brand or see what we can create in collaboration: EMAIL US