The most popular time of the year for weddings down in Australia is September-October, the Spring season! All of the stunning florals are in bloom, the lighting and weather is superb and it really is a magical, romantic time of the year!
Across in the other hemisphere – it's Fall. Rich autumn colours and harvest themes make for incredible seasonal wedding feasts and snugglier festivities. But this time of year brings a holiday that's trending more than ever as a wedding theme…
Halloween!
So, we've collected a few ideas from our favourite Halloween Weddings to help you create a Hauntingly Beautiful Wedding celebration!
Haunting Venue
Mysterious, haunting and grand – these best describe the perfect venue for Halloween weddings. We're thinking old mansions, ancient cathedrals or even castle ruins if they're around (a destination wedding in Europe may be in order). If the musty buildings aren't your style, forest settings are also perfect ceremony locations for the harvest season theme.
Dramatic & Romantic
Dress like you're the only life of the party! If blood-splattered ivory is your jam, you rock that Corpse Bride look! But if you're after moody touches without the red dye, vintage styles and loads of lace bring a bold gothic feel. We also love a dramatic black wedding dress! Lots of tulle and textures create a ghostly vibe that is modern and elegant.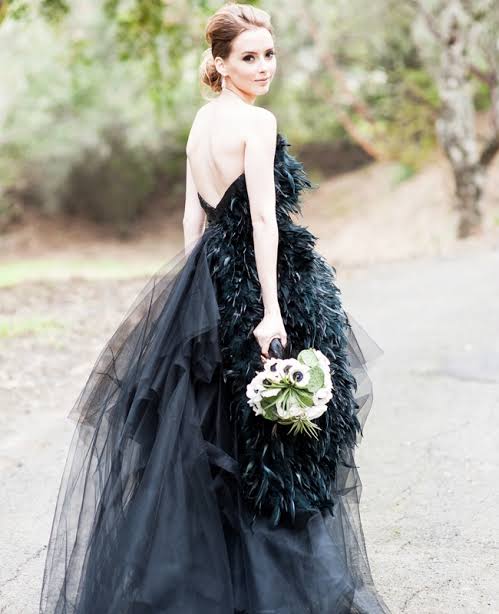 A Cake to Die for
There are so many incredible ideas we have seen to create a Halloween twist with the wedding cake! Black and dark icing with vibrant red blooms definitely gives the vampire vibes. Alternatively, Berries in a black forest cake, or layered in a semi-naked tiered cake look deliciously oozy! We know that if you ask your local wedding cake designer for something a little creepier, they will love the challenge and create absolute delicious perfection.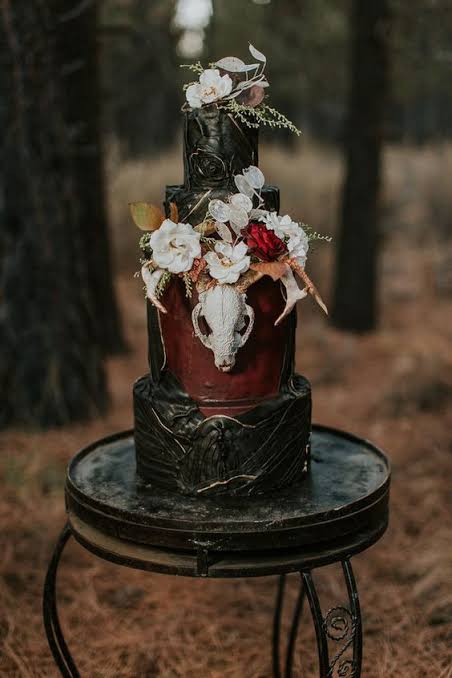 Flowers
A Halloween weddings theme doesn't mean that we have to find a bouquet of only black roses. Moody blooms can include striking greenery, deep dahlias, berries and even succulents. You can use the colours of the season too! Harvest colours (for our northern hemisphere friends) look incredible – oranges and yellows suit the holiday season. For our Spring brides – vibrant bouquets contrasting a black wedding dress will look striking and not at all take away from your theme. For something a little witchy, you could also add in herbs, berries and forest greenery.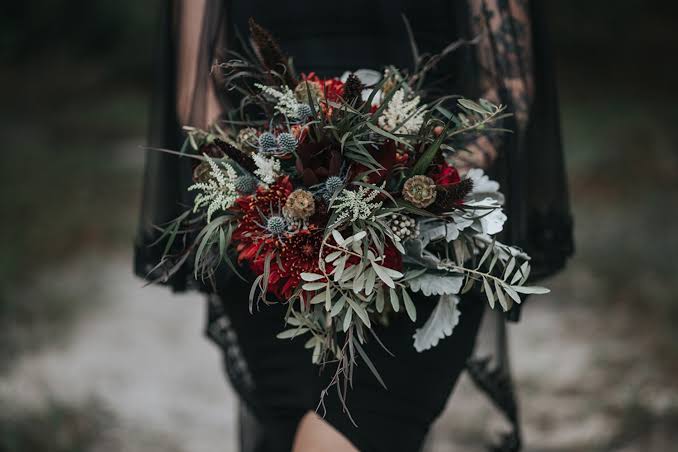 Bridal Party
Dark and gloomy colours for Bridesmaids will suit your spooky theme! If not black, then deep burgundy, purple, blue, green or grey are stunning dress colour choices. A vintage styled dress or the light ethereal look will also work for the Bridesmaids, but don't forget those dark accessories for the finishing touch! Dramatic makeup and a smoky eye will certainly complete the look.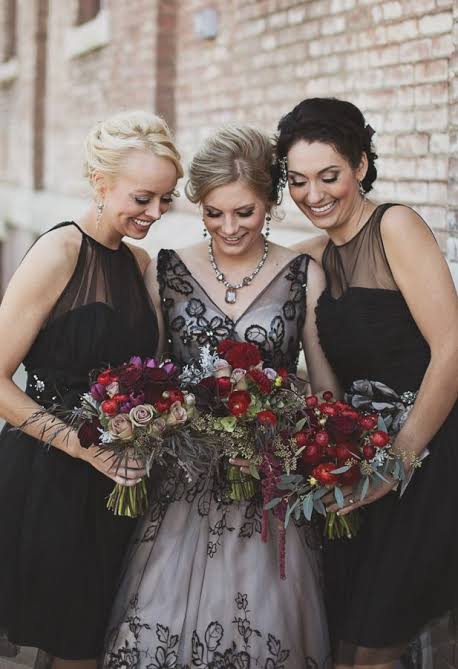 Setting the mood
Chandeliers and candlesticks are the hallmarks for a gothic feel in your styling. Branches and crunchy leaves make amazing décor or aisle runners and adding a pumpkin or two around can tie in the harvest feels. Dark napkins, cutlery or place holders will look amazing or using tables with a natural wood colour with contrasting gold or silver can set a spooky vibe too.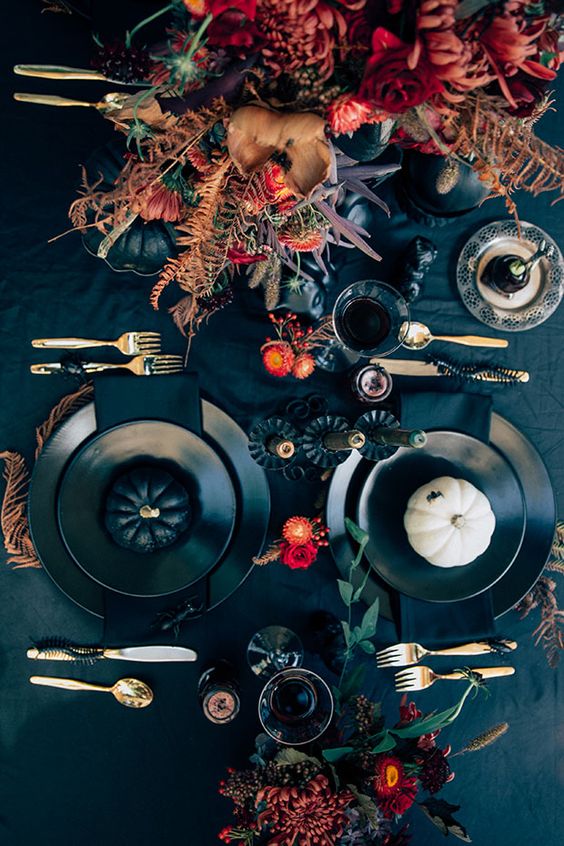 The feast
This time of year brings the most amazing array of feasts and sweets (Pumpkin spiced latte anyone?) and even down here in Australia where it's a little warmer and sunnier, you can still draw on the "Fall" flavours for inspiration. I'm talking pumpkin, pecans, apples, cinnamon, nutmeg and apples – oh! The delicious possibilities are endless!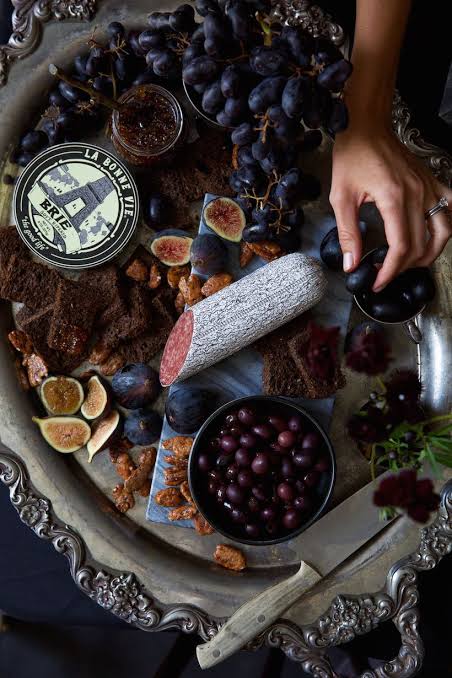 Treats
Somewhere you can totally let your creativity soar is with the favours, aka the bonboneries, aka the treats not tricks!  Our favourite Halloween touch is giving your guests toffee apples, but you could do little "drink me" shooters, themed sugar cookies or little cotton candy packs.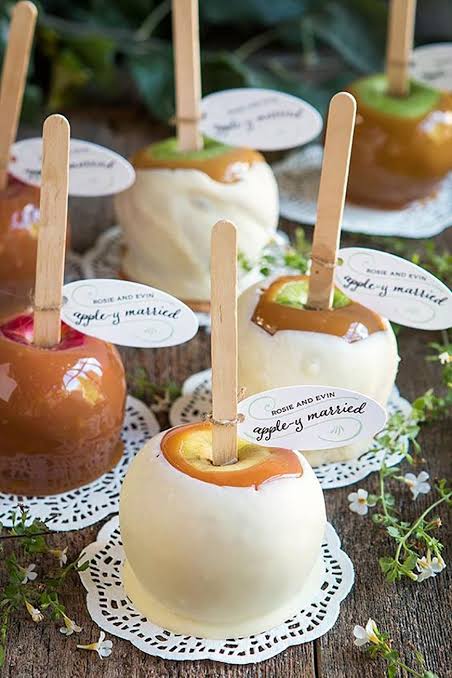 Til Death Do Us Part
Incorporating some of your favourite lines and quotes from a spooky film into your vows is the perfect way to share your love of Halloween with your love and guests listening on. These are a few of our favourite: